Cave Spring Vet Policies and Procedures
Appointment Policy
Doctors hours are by appointment. Appointment times are set aside daily for ill pets that may need to be seen promptly.  Emergency cases shall always receive top priority followed by patients with previously scheduled appointments.  It is also possible to drop your companion off with us if your schedule is not compatible with an available appointment time.  Please call us to schedule an appropriate examination time to minimize waiting and delay.
Patient Arrival Policy
For your protection, and that of others, all dogs must be on a leash and properly controlled while in the waiting area or exam rooms.
All cats must be presented in an appropriate cat carrier or on a leash.  We ask that small mammals be presented safely in an appropriate carrier.
Cat and small dog carriers can be provided in advance if needed.
Payment Policy and Financing
We request payment at the time that services are rendered. For your convenience, we accept Visa, MasterCard, Discover, Care Credit, cash, and personal checks.
We are a participating provider with CareCredit. You can apply online.
We are an American Animal Hospital Association Member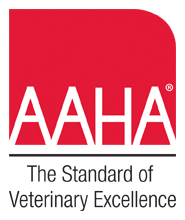 The American Animal Hospital Association (AAHA) is an international organization serving veterinarians and members of their staff, who are engaged in the delivery of veterinary medical care to pets. AAHA includes more than 27,000 veterinary care providers who treat companion animals. Established in 1933, AAHA is well known among veterinarians and pet owners for its standards for hospitals and pet health care. Over 3,000 veterinary hospitals voluntarily participate in the AAHA hospital evaluation program. Trained consultants regularly visit these hospitals to ensure compliance with AAHA's standards for services and facilities. Individual veterinarians can also be members of AAHA.
The Standards and the Accreditation Program
The Standards developed and published by AAHA are widely accepted as representing those components of veterinary practice that represent high quality care. The Standards are periodically reviewed and updated to ensure that they remain consistent with evolving knowledge and technology. They cover physical facilities, equipment, patient and staff safety, staff continuing education and training, medical record keeping, and medical protocols.
Those practices that wish to be accredited complete a lengthy application process, which culminates with an on-site visit by a veterinary professional employed by AAHA. Those practices that are found to be in compliance with the policies and Standards requirements established by the Association are awarded AAHA Accredited Practice status. In order to maintain accreditation, the practice must undergo periodic review and additional on-site evaluations, at intervals of approximately every three years.  The standards focus on the following areas:  Anesthesia, Client Service, Contagious Disease, Continuing Education, Dentistry, Diagnostic Imaging and Evaluation, Emergency and Urgent Care, Exam Facilities, Housekeeping and Maintenance, Human Resources, Laboratory, Leadership, Medical Records, Pain Management, Patient Care, Pharmacy, Safety, and Surgery.
What Accreditation Means for Pet Owners
Choosing an AAHA accredited veterinary practice for your pet's medical care assures you that the practice you have selected has the facilities, equipment, staff, and medical protocols that AAHA believes are important for the delivery of high quality care. Further, voluntary commitment to the AAHA Standards and the Accreditation Program demonstrates that the practice has chosen to have itself measured by an outside organization against the most rigorous published standards in the industry.
AAHA reminds pet owners that they can help pets live healthier and longer lives by taking their pets to the veterinarian for annual physical exams, vaccinations, and dental care as well as providing pets with fresh water, a balanced diet, and exercise.